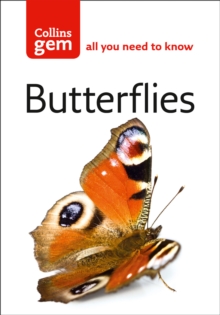 0007178522 / 9780007178520
Reprint. Published in Scotland. Originally published: as Collins gem butterflies & moths photoguide, 1995.
A completely new edition of this invaluable Gem reference guide to the butterflies of Britain, this book uses both high-quality photographs and precise illustrations to make identification of 240 species easy and fun.
Collins Gem Butterflies is a fascinating introduction to 240 of the most commonly found species of butterflies and moths in the British Isles.
Each entry includes:; Identifying illustrations of the butterfly or moth and details of distinguishing features which can help with identification.; Information on size, habitat, geographical range and months when the butterfly or moth can be spotted.; The names of similar species with which the butterfly or moth could be confused, and details of the differences between them.
All this information and much more is presented in a clear, highly illustrated format that Gem readers have come to know and love.
BIC: