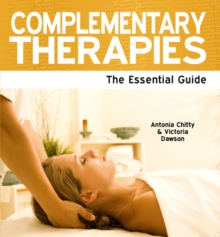 Complementary therapies : the essential guide
1861440987 / 9781861440983
Usually dispatched within 2 weeks
More and more people in the UK are turning to complementary therapies in order to relieve stress, aid relaxation or gain relief from illness.
The selection of complementary therapies available can be baffling to someone who has no prior knowledge of the techniques, where they come from and what they are most beneficial for.
This practical guide brings together expert advice, the latest research and the facts about the most commonly used complementary therapies.
Therapies covered include: acupuncture, aromatherapy, chiropractice, herbalism and Chinese medicine, homeopathy, hypnotherapy, massage, osteopathy, reiki and reflexology.
For each therapy, there is information on its history, what the treatment involves and what it can be used for.
The book explores the general benefits, scientifically proved benefits and anecdotal benefits of each therapy included to ensure a balanced and realistic view of each treatment.
There are also dedicated sections in each chapter on how a particular therapy can be especially useful if you are pregnant, elderly, or a parent wanting treatment for your child.
BIC:
* Variable discounts between 0% and 15% are applied to items where BBfS cannot determine exact discounts from suppliers.