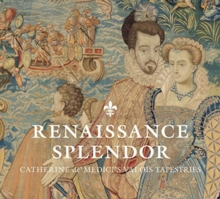 Renaissance splendor : Catherine de' Medici's Valois tapestries
0300237065 / 9780300237061
29 x 31 cm 94 pages : illustrations (black and white, and colour), map (colour)
Published on the occasion of the exhibition of the same name held at the Cleveland Museum of Art, 18th November 2018-21st January 2019.
Featuring detailed scenes of court pageantry and life-size portraits of members of the French Valois dynasty woven in wool, silk, and precious metal-wrapped threads, the Valois Tapestries are one of the most extravagant sets of hangings produced in the 16th century.
The precise circumstances surrounding the tapestries' commission and their arrival at the Medici court in Florence, as well as the significance of the specific scenes depicted, however, have eluded scholars for years.
Presenting new research into the political maneuvering of the Valois and Medici courts and providing extensive physical analysis gathered during a recent cleaning of the tapestries, this volume offers brand new insight into why these magnificent works were made and what they represent.
BIC:
ABC Conservation, restoration & care of artworks, ACND Renaissance art, AGC Exhibition catalogues & specific collections, AKTX Textile design & theory