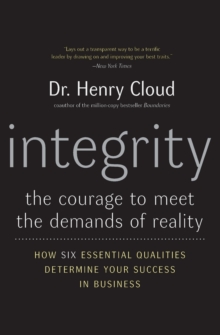 Integrity : the courage to meet the demands of reality
006084969X / 9780060849696
Reprint. Originally published: 2006.
In this path-breaking book, Dr. Henry Cloud shows what integrity is, how it is lived in everyday experience and what one must do to determine whether you are perceived as someone with character and integrity.
Central to question of integrity is whether a person has the courage to face up to reality.
Cloud shows how the ability to address adversity, to learn lessons from it, and adjust one's behavior is a greater determinant of success than brains or talent or charm.
He shows that successful leaders have competencies, alliances and, most important, character.
Then he examines exactly what behaviors constitute character and how they are expressed in real life situations.
Assessing and building the six essential qualities of character is the goal of this book.
It will be used widely by a range of people because the things he identifies apply equally across regions, cultures and classes.
BIC: