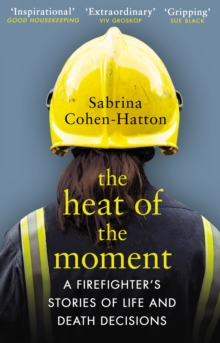 The heat of the moment : a firefighter's stories of life and death decisions
1784163880 / 9781784163884
Reprint. Originally published: London: Doubleday, 2019.
'An inspirational memoir from an extraordinary woman . . . A humbling, jaw-dropping read' Viv Groskop'This book will change the way you think.
Forever' CosmopolitanDr Sabrina Cohen-Hatton has been a firefighter for eighteen years.
She decides which of her colleagues rush into a burning building and how they confront the blaze.
She makes the call to evacuate if she believes the options have been exhausted or that the situation has escalated beyond hope. Taking us to the very heart of firefighting, she immerses us in this extraordinary world; from scenes of devastation and crisis, through triumphs of bravery, to the quieter moments when she questions herself.
Revealing her own story for the very first time, she recounts her years spent sleeping rough and her passion for a career that allows her to rescue others as she was never rescued herself. This book is the result of everything she has learnt about how we respond in our most extreme moments. 'This book challenges assumptions about who firefighters are, and about what women can do' The Guardian
BIC:
BM Memoirs, GPQ Decision theory: general, JFFC Social impact of disasters, JKSW2 Fire services, JMJ Occupational & industrial psychology