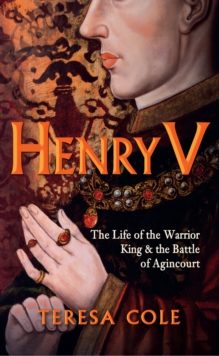 Henry V : the life of the warrior king & the Battle of Agincourt
1445655411 / 9781445655413
20 cm 287 pages, 16 unnumbered pages of plates : illustrations (black and white, and colour)
Reprint. Includes QR code. Originally published: 2015.
In the latter years of the fourteenth century a child was born, so unimportant that even his exact date of birth is unknown.
Yet before his twenty-seventh birthday the turn of fortune's wheel had brought him the crown of England.
The kingdom he inherited as Henry V was deeply divided after the seizure of the throne by his father, Henry IV, the first Lancastrian king.
Within a short time, however, by sheer force of personality and will, Henry had mended the rifts, pardoned and released prisoners, and united the whole country behind his claim not just to be King of England, but also King of France. One staggering victory against all the odds on the field of Agincourt brought him lasting fame, and took him within touching distance of succeeding in his claim.
Henry V looks at the life and legacy of a king whose heroic achievements and tragic early death may truly be said to have changed the course of British history.
BIC:
1DBKE England, 3H c 1000 CE to c 1500, HBJD1 British & Irish history, HBLC1 Medieval history