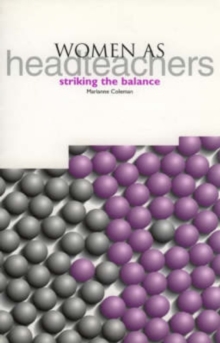 Women as headteachers : striking a balance
1858562589 / 9781858562582
Usually dispatched within 2 weeks
Leadership is generally identified with men. Only a quarter of the secondary school heads in England and Wales are women.
Despite changes in society, there are still issues for women who aspire to leadership in schools.
Some of those tackled here are: Will I be up against institutionalized views that make my career progress difficult?
Will I have to be seen to lead like a man if I am going to be considered a good headteacher?
Will I have credibility as a leader and manager if I combine motherhood and a career?
How will men react to being managed by a woman? There are also issues for schools and their senior managers, related to encouraging women to go to the top, such as: What career support and advice are we offering?
Are we offering appropriate role models? How do we view maternity leave? Are we family friendly? The author's survey of women headteachers in England and Wales plus in-depth interviews present the views of the women who have become leaders in schools.
Complementary data from the same number of male headteachers allows comparisons to be drawn between the careers and the perceptions of work and family of men and women heads, shedding light on the many issues explored.
BIC:
1DBKE England, 1DBKW Wales, JFFJ Social discrimination & inequality, JFSJ1 Gender studies: women, JNKH1 Teacher assessment