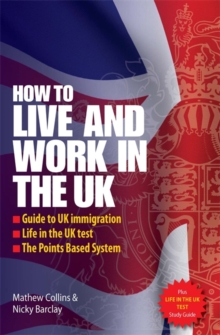 How to live and work in the UK : guide to UK immigration ([New ed.])
1845283724 / 9781845283728
Usually dispatched within 2 weeks
Previous ed.: published as Living and working in the UK. 2006.
This essential handbook is for anyone wishing to enter the UK to work, study, settle, join their family, or visit - and who wants to remain in the UK indefinitely.
It is ideal for students, would-be immigrants to the UK, HR professionals, and expats.
It will help them to identify which visa category is applicable to them, and will prepare them for passing the Life in the UK test as set by the Home Office for those applying for British citizenship.
Written by immigration practitioners, this book is an easy to use handbook that readers will refer to, time and time again.
This book is an essential read for those planning to come to the UK and who need to make a visa application.
It covers: - critical information on which visa categories may be appropriate to their circumstances - how to make a visa application - what to expect when they arrive in the UK, including important information on how to establish a National Insurance number (for working), familiarising themselves with the taxation system, how to register with a Doctor and Dentist, plus much more.
For those employing non-UK/EU citizens, this book explains: - what essential checks you must put in place - details of the Points Based System and how individuals can qualify - how to obtain a licence to employ foreign nationals and the HR compliance issues that need to be in place in order to remain compliant with the UK Border Agency For employers dealing with intra-company transfers and global people mobility issues, it offers a simple and understandable way to assess employees and whether they meet the appropriate visa requirements. Contents: Preface; Part I: Information for the 'Life in the UK' test; 1.
United Kingdom past and present; 2. The UK in Europe and the Commonwealth; 3. Religion; 4. Women in UK society; 5. Children and young people; 6. Education; 7. Housing; 8. Utilities; 9. Personal finance; 10. Health; 11. Leisure; 12. Transport; 13. Employment; Part II: Immigration; 14. United Kingdom immigration; 15. Spouses, fiancees and unmarried partners; 16. EEA nationals; 17. Entry clearance; 18. Citizenship; Part III: Employer's Section; 19. Points-based system and employers' registration; Part IV: Living in the UK - Practical information; 20.
Employment; 21. Studying; 22. Basic employment laws; 23. National insurance and taxation; 24. Starting a business; 25. Childcare, schools and education; 26. Housing; 27. Healthcare; 28. Transport; 29. Moving to the UK; 30. Arriving in the UK; 31. Lifestyle and leisure; 32. Useful information - things you need to know; 33. Crossing the cultural divide; 34. Useful contacts; Index.
BIC:
1DBK United Kingdom, Great Britain, VSW Living & working abroad, WTH Travel & holiday guides