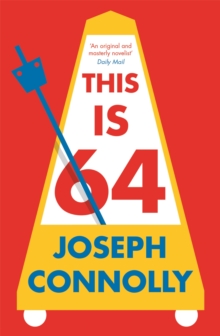 This is 64
1848666357 / 9781848666351
Reprint. Originally published: 2017.
THE NEW NOVEL FROM THE BOLLINGER SHORTLISTED AUTHOR OF ENGLAND'S LANE. 'There's a lot of brilliantly observed detail... it's very funny and very sharp' Michael PalinGeorge is a fashion mad Beatles fan, selfish and cruel.
Why his girlfriend Dorothy loves him is a mystery to her and to his best friend Sammy.
When George callously chucks her he cannot anticipate that his life, post 1964, will never be the same. And forty-four years later, when George is sixty-four, rich and successful, his past will catch up with him and his family. 'Connolly unfolds a rich and compelling drama of life that is anything but everyday' Daily Mail'It is Connolly's skill to get the reader to laugh at what should make you cry or at least wince' Times Literary Supplement
BIC: