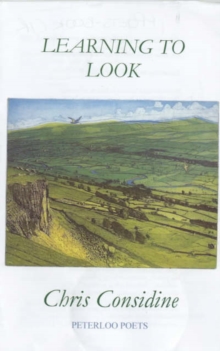 1904324053 / 9781904324058
Usually dispatched within 4 weeks
Learning to Look is Chris Considine's first full collection.
The title sequence consists of 10 poems about Art Class.
The opening sequence of 10 poems, "Touched by War", was highly commended in the Blue Nose Poets Competition 2000.
A third sequence, "The Lonelyhearts Column", consists of 10 snapshots of recognizable types - "professional widower", "stylish romantic", "musician seeks lady for inspiration" etc - and casts a satiric eye on the whole dating game.
A fourth section of poems, "Stonewallers and other poems" is not a sequence.
The subject matter of these poems ranges from Swaledale, sheep, and marmalade-making to the Himalayas, Emma Knightley, and George Stubbs.
This is an outstanding first full collection and Chris Considine is a poet to watch.
Learning to Look: Art Class 9 It's not so much learning to look as re-learning.
The child took so long to walk home to lunch there wasn't time to eat.
I only remember the fascination of earthworms and roadworks.
Now, my weekly journey to Askrigg is magical. The car protects me from too much seeing or I might never arrive. The high point comes after the tortuous climb past Crow Trees and the slow threading through icepuddles and greened-over spoil-heaps, in a shock of emptiness when the whole of Upper Wensleydale opens under its miles of air.
Glimmer of Semerwater in its hollow. Addlebrough rising slowly from the brownness as I descend.
Since I began coming it has been mostly winter, colours damped down.
Grey-brown of rock and heather. Buff and khaki winter grass. Sometimes a thin snow has repainted the long ridges in cloud colours.
At last I know how to use my collection of greys. They range from almost black to off-white via pinkish, mushroom-beige, greenish, dull-blue - drabness rich in potential.
Blue at the top, green at the bottom, charcoal and brown for hills.
My shades of grey make up the colours of wilderness, this grave place beautiful even in rain, vital, not needing the sun to shine.
The Lonelyhearts column: No 1 Like one of the circles of hell with the sexes riding on contrary winds, men clockwise and women widdershins, absorbed so deep in their lonely concerns they don't even wave to each other. There are no mirrors here, obsessed with appearances they squint the mind's eye to see themselves forever young, well-preserved, youthful, 55 going on 20, but underneath is fear.
Middle-aged rich men dream of childwomen half their age to cherish: Knight, 49, seeks young attractive damsel to rescue from distress.
His disperation pursues her as his grail. The women think of endings rather than beginning again.
There are too many young-looking widows, fiftysomething blonde divorcees, early-retired ageless ladies.
They know that makebelieve must terminate, long to be settled before darkness falls.
BIC:
* Variable discounts between 0% and 15% are applied to items where BBfS cannot determine exact discounts from suppliers.