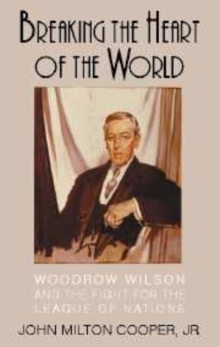 Breaking the heart of the world : Woodrow Wilson and the fight for the League of Nations
0521147654 / 9780521147651
Usually dispatched within 4 weeks
23 cm ix, 454 p. : ports.
Reprint. Originally published: 2001.
The fight over the League of Nations at the end of World War I was one of the great political debates in American history.
President Woodrow Wilson, himself a key architect of the League, was uncompromising in his belief that the United States would rise to a position of leadership in the peaceful union of states that he had envisaged.
A masterful politician and distinguished theorist, Wilson was unprepared for the persuasiveness of his opponents and the potency of their argument.
Though he struggled tirelessly in the summer of 1919 to drum popular and political support for the League, he suffered a disabling stroke in July.
The United States Senate ultimately rejected membership in the League, and the League failed to realise its diplomatic potential.
In this engaging narrative, John Cooper relates the story of Wilson's battle for the League with sympathy, accuracy, and a deep understanding of the times.
BIC:
1KBB USA, 3JJG c 1918 to c 1939 (Inter-war period), HBJK History of the Americas, HBLW 20th century history: c 1900 to c 2000