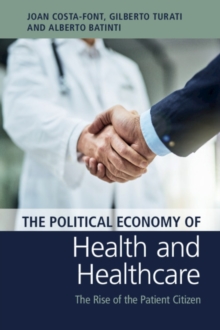 The political economy of health and healthcare : the rise of the patient citizen
110846825X / 9781108468251
Stock expected by 09/06/2020
The healthcare sector is one of the fastest growing areas of social and public spending worldwide, and it is expected to increase its government shares of GDP in the near future.
Truly global in its scope, this book presents a unified, structured understanding of how the design of a country's health institutions influence its healthcare activities and outcomes.
Building on the 'public choice' tradition in political economy, the authors explore how patient-citizens interact with their country's political institutions to determine the organisation of the health system.
The book discusses a number of institutional influences of a health system, such as federalism, the nature of collective action, electoral competition, constitutional designs, political ideologies, the welfare effects of corruption and lobbying and, more generally, the dynamics of change.
Whilst drawing on the theoretical concepts of political economy, this book describes an institution-grounded analysis of health systems in an accessible way.
We hope it will appeal to both undergraduate and graduate students studying health economics, health policy and public policy.
More generally, it can help health policy community to structure ideas about policy and institutional reform.
BIC:
KCP Political economy, KCQ Health economics, MBNS Epidemiology & medical statistics, MBP Health systems & services