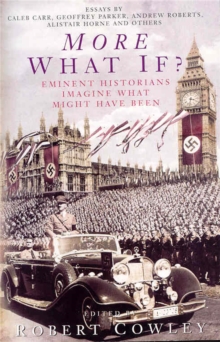 More what if?
1447272471 / 9781447272472
Usually dispatched within 4 weeks
24 cm 448 pages : illustrations
Reprint. Originally published: New York: Putnam's, 2001.
'Marvellously entertaining as well as thought-provoking - the finest intellectual parlour-game around.' Noel Malcolm, Sunday TelegraphMore What If?, the sequel to the acclaimed What If? examines history's most fascinating what-might have-beens.
More of the world's leading historians, including Geoffrey Parker, Theodore K Rabb, Cecilia Holland and Caleb Carr postulate on what might so easily have been.
Concentrating on the crucial and the seemingly insignificant, What If? 2 is an entertaining and brilliantly provocative look at the way our world could easily have been.What if William hadn't conquered?
What if the enigma code remained uncracked? And would this even matter if Lord Halifax had become Prime Minister rather than Churchill?
This selection of alternative history is both provocative and stimulating and gives us a valuable insight into the way things could so easily have been.Praise for the What If? series
BIC: