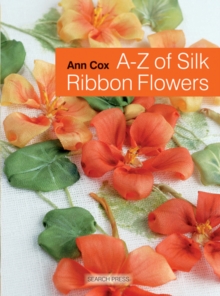 A-Z of silk ribbon flowers
1844489973 / 9781844489978
30 cm 128 pages : illustrations (colour)
Reprint. Originally published: 2009.
From Aquilegia to Zantedeschia, Ann Cox's accomplished renditions of flowers using silk ribbon embroidery are showcased in this exquisite book.
It begins with a comprehensive techniques section that includes all the basic techniques you need to know to make all the flowers in the book, including materials; how to handle and work with ribbon; transferring a design to the fabric using a template; the various ribbon stitches and gathering techniques used; and painting ribbons and backgrounds to achieve different effects. The main body of the book then describes clearly how to create thirty-two different flowers, including leaves, stems and buds, using detailed step-by-step instructions and stunning close-up photography.
Each design has a template, and diagrams and ideas for variations on the main design are also included where necessary.
A fantastic, inspirational book for flower lovers and silk ribbon embroiderers alike.
BIC: