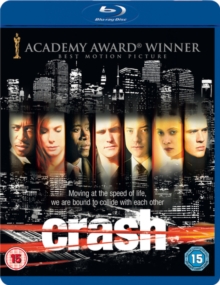 (15) Suitable for 15 years and over.
Oscar-winning urban drama which tracks the volatile intersections of a multi-ethnic cast of characters' struggles to overcome their fears as they careen in and out of one another's lives.
A Brentwood housewife and her DA husband; a Persian store owner; two police detectives who are also lovers; an African-American television director and his wife; a Mexican locksmith; two car-jackers; a rookie cop; and a middle-aged Korean couple - they all live in Los Angeles, and during the next 36 hours, they will all collide.
Matt Dillon, Sandra Bullock, Don Cheadle and Karina Arroyave star.
Commentary: Paul Haggis (Director), Don Cheadle (Actor), Bobby Moresco (Producer)
Other Documentary: 'LA - The Other Main Character', 'Unspoken'