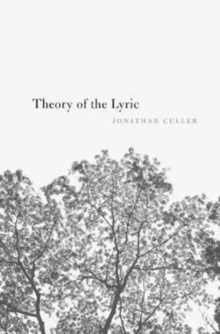 Theory of the lyric
0674979702 / 9780674979703
24 cm 416 pages : illustrations
What sort of thing is a lyric poem? An intense expression of subjective experience? The fictive speech of a specifiable persona? Theory of the Lyric reveals the limitations of these two conceptions of the lyric-the older Romantic model and the modern conception that has come to dominate the study of poetry-both of which neglect what is most striking and compelling in the lyric and falsify the long and rich tradition of the lyric in the West.
Jonathan Culler explores alternative conceptions offered by this tradition, such as public discourse made authoritative by its rhythmical structures, and he constructs a more capacious model of the lyric that will help readers appreciate its range of possibilities. "Theory of the Lyric brings Culler's own earlier, more scattered interventions together with an eclectic selection from others' work in service to what he identifies as a dominant need of the critical and pedagogical present: turning readers' attention to lyric poems as verbal events, not fictions of impersonated speech.
His fine, nuanced readings of particular poems and kinds of poems are crucial to his arguments.
His observations on the workings of aspects of lyric across multiple different structures are the real strength of the book.
It is a work of practical criticism that opens speculative vistas for poetics but always returns to poems."-Elizabeth Helsinger, Critical Theory
BIC: