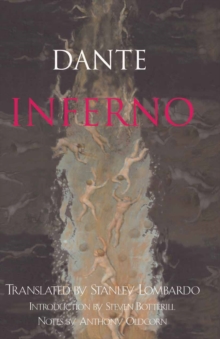 Inferno
0872209172 / 9780872209176
An attractive new alternative as both a translation and a pedagogical tool.
The volume includes an excellent introduction by Dante scholar Steven Botterill (Univ. of California, Berkeley), clear and informative notes by lifelong Dantist Anthony Oldcorn, a concise bibliographical note that indicates some important sources on Dante in print and online, and a diagram of Hell; Index of the Damned lists characters who appear in the canticle.
The translator's preface explains Lombardo's choices as he faced the always-challenging task of rendering Dante's poetry into English.
Among the most interesting choices are the occasional use of rhyme--especially in key passages and at the end of each canto, where interlocking rhymes that mimic Dante's terza rima are consistently employed--and an emphasis on creating a version that works well as an oral presentation, following the long tradition of private, public, and theatrical readings of the poem.
The volume includes the original Italian text, thus facilitating classroom references and comparisons. --Rebecca West (Department of Romance Languages and Literatures, University of Chicago) in Choice
BIC: