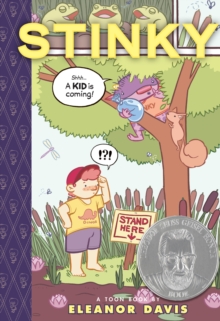 Stinky
0979923840 / 9780979923845
Usually dispatched within 2 weeks
23 cm 40 p. : chiefly col. ill.
Deep in the swamps dwells Stinky, a purple spotted monster with horns and a hedgehog hairdo.
Stinky loves pickles and possums but is terrified of people.
When a small child finds their way into the swamp, Stinky is forced to think of some crazy plans to scare him away.
However Stinky quickly learns to conquer his fear and realise that bats, rats and toads are not the only friends you can find in a swamp.
A hilarious and heartwarming tale from Eleanor Davis which proves than even monsters can make new friends.
BIC:
YFW Comic strip fiction / graphic novels (Children's / Teenage)