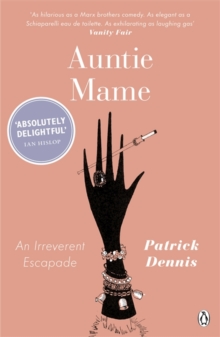 Auntie Mame : an irreverent escapade
014119412X / 9780141194127
Stock expected by 05/12/2020
Reprint. Originally published: New York: Vanguard Press, 1955.
Inspired by his own eccentric aunt, Patrick Dennis's Auntie Mame is a madcap comedy, published with an afterword by Matteo Codignola in Penguin Modern Classics. 'Auntie Mame and I learned to love one another in as brief and painless a period as possible.
That her amazing personality would attract me, just as it had seduced thousands of others, was a foregone conclusion.
Her helter-skelter charm was, after all, notorious ...'When shy young heir Patrick is orphaned at the tender age of ten, the only family he has is his wealthy and eccentric aunt, a fabulous New York socialite named Mame.
While prone to dramatic costumes, flights of fancy and expensive whims - not least her lives as a muse and a Southern belle - Auntie Mame will raise Patrick the only way she knows how: with madcap humour, mishaps, unforgettable friends and lots and lots of love.
Turned into a play, a musical, and adapted into a 1974 film directed by Gene Saks and starring Lucille Ball, Auntie Mame is the most magnificent and hilarious work of love, style, wit and the life of a very modern Aunt.
Patrick Dennis (1921-76) was one of the most widely read American authors of the 1950s and '60s.
Among his sixteen novels, the majority of which were bestsellers, are Little Me, Around the World with Auntie Mame, Tony, How Firm a Foundation and Genius.
A celebrity in bohemian New York culture, he led a double life as a bisexual man and a conventional husband and father, until becoming an exemplary butler to the elite in West Palm Beach and Chicago in the 1970s.
In his own words, he attributed this change to being 'out of fashion' - and, 'I've said everything that I had to say.
Twice.'If you enjoyed Auntie Mame, you might like Breakfast at Tiffany's, also available in Penguin Modern Classics. 'Extravagant follies and delirious escapades'The New York Times
BIC: