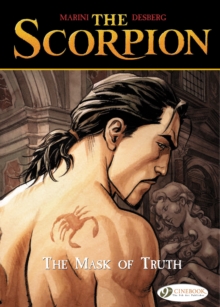 The mask of truth
1849181764 / 9781849181761
Usually dispatched within 2 weeks
26 cm 48 pages : chiefly illustrations (colour)
Translated from the French.
Is the reign of terror that grips Rome about to end? One by one, the Pope's warrior monks fall to the Scorpion's blade or desert their master.
Feeling his enemy circling ever closer, Trebaldi grows desperate and hires Rome's best paid assassins to go after him-and whomever else stands in his way.
As the women in his life choose their destinies, an old enemy reappears to plague the Scorpion...or perhaps to bring him the truth at last, hidden behind his mask.
BIC: