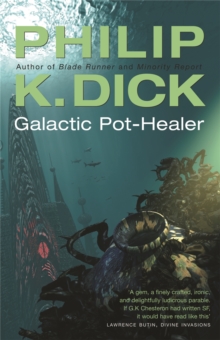 Galactic pot-healer
0575074620 / 9780575074620
Stock expected by 17/12/2019
Reprint. Originally published: Garden City, N.Y.: Doubleday, 1969; London: Gollancz, 1971.
'It's beginning to look as though greatness has been thrust upon Philip K. Dick ... [He] has chosen to handle material too nutty to accept, too admonitory to forget and too haunting to abandon' Washington Post 'In all his work he was astonishingly intimate, self-exposed, and very dangerous. He was the funniest sf writer of his time, and perhaps the most terrifying' The Encyclopedia of Science Fiction 'Dick quietly produced serious fiction in a popular form and there can be no greater praise' Michael Moorcock Philip K. Dick has been introduced to a huge market through the movies Blade Runner, M
Joe Fernwright works as a pot-healer, a repairer of ceramics, in a dull future where there isn't much call for his skills.
He's broke and bored when the offer from the Glimmung comes along.
It might just be the answer to both his financial and spiritual problems, even if it does mean working on a strange project on Plowman's Planet with other assorted odd creatures.
The only thing is that the Glimmung may just be divine and ask for more than Joe's commitment to the job.
BIC: