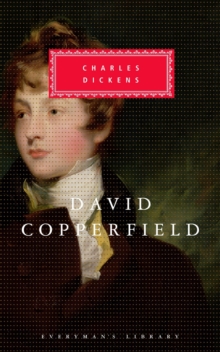 David Copperfield ([New ed.])
1857150317 / 9781857150315
22 cm xlii, 891 p. : ill.
In a book that is part fairy tale and part thinly veiled autobiography, Dickens transmutes his life experience into a brilliant series of comic and sentimental adventures in the spirit of the great eighteenth-century novelists he so much admired.
Few readers can fail to be touched by David's fate, and fewer still to be delighted by his story.
The cruel Murdstone, the feckless Micawber, the unctuous and sinister Uriah Heep, and David Copperfield himself, into whose portrait Dickens puts so much of his own early life, form a central part of our literary legacy. This edition reprints the original Everyman preface by G.
K. Chesterton and includes thirty-nine illustrations by Phiz.
BIC:
FC Classic fiction (pre c 1945)
Prizes:
R 2003 The BBC Big Read Top 100
S 2003 BBC Big Read Top 100