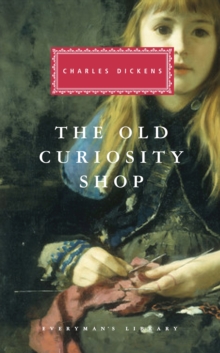 0679443738 / 9780679443735
135 x 208 mm, 765 grams 624 pages
Charles Dickens's story of selfless Little Nell and her ailing grandfather and their persecution by the magnificently malignant villain Quilp has seized the imaginations and wrung the hearts of generations of readers.

Dickens's talent was superabundant in every way: in his dramatic force and his massive productivity, in his almost surreal comic power, in his compassion and thirst for justice, and in the imaginative pressure he brought to bear on even the most incidental of his characters. The delightfully various figures in The Old Curiosity Shop range memorably from jaunty Dick Swiveller and his little half-starved Marchioness to the hard-hearted siblings Sampson and Sally Brass, jovial Mrs. Jarley, devoted Kit Nubbles, the hunchbacked Daniel Quilp, and, of course, tragic Little Nell herself. Dickens's depiction of the fate of his main characters is famously harrowing and unfailingly suspenseful, but not the least of its charms is that it is embellished with a supporting cast of figures as grotesque and colorful as anything in the Old Curiosity Shop itself.
           
This edition reprints the original Everyman's preface by G. K. Chesterton and features seventy-five illustrations by Cattermole and Phiz.

BIC:
Title Unavailable: Out of Print
Other Formats