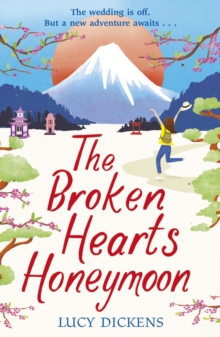 The broken hearts honeymoon
1787466159 / 9781787466159
The wedding is off, but adventure awaits... The perfect armchair escape for fans of Jo Thomas, Jenny Colgan and Phillipa Ashley. 'Funny, inspirational and so evocative' CATHY BRAMLEY'The ultimate armchair adventure - I absolutely loved it!' HEIDI SWAIN'Will leave you feeling inspired' CRESSIDA MCLAUGHLIN'THE BROKEN HEARTS HONEYMOON is truly gorgeous.
A great premise, sympathetic protagonist and a journey full of laughs and drama.
A true love story to Japan too - the most wonderful setting - five stars from me.
A really brilliant read.' ROSIE BLAKE____________________________When disaster strikes, adventure calls... Charlotte had a plan. The perfect country wedding, followed by a month-long honeymoon in Japan - but when her fiance starts having second thoughts, she knows there's no choice but to call off the wedding. Charlotte isn't sure she knows how to be single, but she is going to try, starting with taking that trip of a lifetime - alone. Will she find herself in the hills of Mount Fuji, or in the karaoke bars of Tokyo?And will she be ready for romance by the time the cherry blossom flowers?A feel-good story of reclaiming your life, set among the cherry blossom of Japan.
The Broken Hearts Honeymoon is Eat, Pray, Love for the Instagram generation. ____________________________READERS ARE FALLING IN LOVE WITH THE BROKEN HEARTS HONEYMOON'Has the reader completely there in the thick of the adventure.
One of the best books of the year.''Gloriously rich descriptions and an emotional arc that is deeply felt and sweetly told''I loved the messages the book had about knowing yourself and taking the time to find out what you want out of life''Just what I needed as a pick me up - made me feel happy''What an incredible book!''This is a fabulous read'
BIC:
1FPJ Japan, FA Modern & contemporary fiction (post c 1945), FRD Adult & contemporary romance