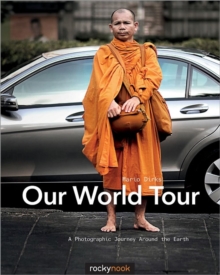 1937538362 / 9781937538361
Usually dispatched within 4 weeks
206 x 253 mm, 1036 grams 352 pages
This book takes you on a journey around the world through the eyes of photographer Mario Dirks.
In the fall of 2011, camera and lens manufacturer Sigma sent Mario on a yearlong adventure to photograph the most beautiful places on earth.
As Sigma's World Scout, he spent 50 weeks visiting a total of 77 cities, 48 countries, and 5 continents.
He took 101 flights and traveled 2,500 miles by foot.
The result of his tour is a collection of extraordinary photographs showcasing fascinating destinations and scenic locations from around the globe.
With this wealth of images and experiences, Mario Dirks has created a diversified snapshot of our earth.
The images in this book show global sights like the Taj Mahal, Machu Picchu, Petra, the Grand Canyon, and Ayers Rock, as well as architectural masterpieces, unique natural landscapes, and portraits of people and animals.
Mario's photographs are accompanied by anecdotes from his travels as well as photographic tips and tricks, making this book a visual delicacy and treasure trove for every photographer. Come on a journey with the author to America, Africa, Europe, Asia, and Australia; immerse yourself in the colorful and exciting variety of our world; and experience what great photography is made of.
BIC:
AJB Individual photographers, WTM Places & peoples: general & pictorial works
* Variable discounts between 0% and 15% are applied to items where BBfS cannot determine exact discounts from suppliers.