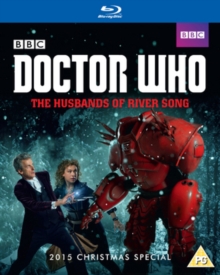 Doctor Who: The Husbands of River Song
The 2015 Christmas special of the long-running sci-fi show starring Peter Capaldi as the twelfth Doctor.
On Christmas Day 5343, The Doctor is hiding out on the remote colony of Mendorax Dellora when a case of mistaken identity sees him join Professor River Song (Alex Kingston) on a mission to try and save her dying husband King Hydroflax (Greg Davies).
But when Hydroflax turns on them, The Doctor and River Song are forced to flee to the planet Darillium where they are supposed to spend their last night together.
A place The Doctor has been avoiding for a very long time...
Other Documentary: 'Doctor Who Extra', 'Adventures of River Song'