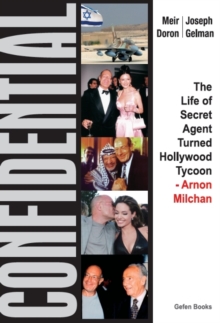 Confidential : The Life of Secret Agent Turned Hollywood Tycoon -- Arnon Milchan
0615433812 / 9780615433813
180 x 245 mm, 734 grams 310 pages
Arnon Milchan has led an extraordinary life. The kind of life one would read about in a John Le Carre spy novel or in a movie made by Hollywood colleagues Steven Spielberg or Oliver Stone.
This is the story of a secret agent, of nuclear proliferation, billion-dollar high-tech defence transactions, ideology, patriotism, love, heartbreak, and the awe-inspiring Hollywood career of a mysterious mogul.
In a true story that puts James Bond to shame, Confidential details with nail-biting suspense how producer Arnon Milchan evolved from his youth into one of the most important covert agents that Israeli intelligence has ever fielded.
From Iran to South Africa, from Poland to Taiwan and the US, Confidential casts a global net to expose the legendary producer of blockbusters like Pretty Woman, L A Confidential, and Mr and Mrs Smith.
Meir Doron and Joseph Gelman methodically unveil Arnon Milchan's role as a key player in many of Israel's most important intelligence operations.
Confidential is packed with stunning new revelations and opens a window into the world of a real covert operative, who evolved into a genuine member of Hollywood's royal elite.
BIC:
APB Individual actors & performers, BGBA Autobiography: business & industry, BGFA Autobiography: arts & entertainment