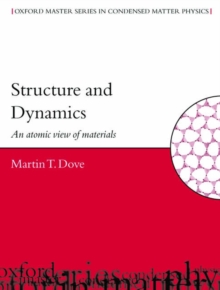 Structure and dynamics : an atomic view of materials
0198506783 / 9780198506782
25 cm xxii, 334 p. : ill.
This book is concerned with a wide range of general principles that govern the behaviour of atoms in solids, and these principles are applied to the full range of types of materials known to man.
The dual focus is on the structures of materials at an atomic level and on how the atoms vibrate inside solids.
This dual focus comes together to explore how the atomic principles determine the behaviour and properties of materials.
Attention is also given to experimental methods. The general principles include the factors that determine the packing of atoms to form the huge variety of structures, the formal description of real and reciprocal space, the types of atomic bonding, the formalism of atomic vibrations, and the theories of phase transitions.
The tools covered include diffraction and spectroscopy, both laboratory and large-scale facilities.
BIC:
PHFC Condensed matter physics (liquid state & solid state physics), PNRS Solid state chemistry, PNT Crystallography, TGM Materials science