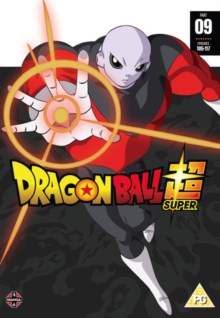 Dragon Ball Super: Part 9
Episodes 105-117 of the Japanese animation series based on the manga by Akira Toriyama.
In these episodes Goku (voice of Masako Nozawa) makes efforts to resurrect Frieza (Ryûsei Nakao) in time for the Tournament of Power, however, not everyone thinks this is a wise decision.
The episodes are: 'A Desperate Battle! Master Roshi's Sacrifice!!', 'Find Him! Death Match With an Invisible Attacker!!', 'Revenge 'F' The Cunning Trap?!', 'Frieza and Frost!
Conjoined Malice?!', 'The Ultimate Enemy Approaches Goku!
Now, Let Loose! The Killer Spirit Bomb', 'Son Goku Wakes! New Level of the Awakened!!', 'The Surreal Supreme Battle!
Hit Vs Jiren!!', 'A Saiyan's Vow! Vegeta's Resolution!!', 'With Great Joy! The Repeat Battle-Crazy Saiyan Fight!!', 'Intimidating Passion!
The Birth of a New Super Warrior!!', 'Goku Vs Kefla!
Super Saiyan Blue Defeated!?', 'The Sign of a Comeback!
Ultra Instinct's Huge Explosion!!' and 'Showdown of Love! Androids Vs Universe 2!!'.