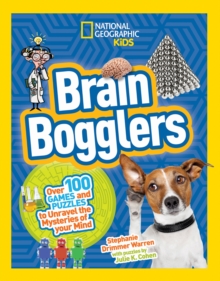 Brain Bogglers : Over 100 Games and Puzzles to Reveal the Mysteries of Your Mind
1426324235 / 9781426324239
217 x 276 mm, 680 grams 176 pages
Get ready to challenge yourself in this super-fun write-in activity book chock-full of amazing puzzles, games, and brain facts all about the mysteries of your own mind!
Follow zany narrator and superbraniac Ima Genius and her talking dog Atom to get snappy explanations of why and how your brain deals with memory, sleep, vision, fear, mind control, and so much more! Learn about instinct, language, and how animals are wired to communicate with each other.
Try creative experiments and play games that build your brainpower.
Discover famous historical cases, crazy quizzes, and develop your Genius Jargon with a glossary for advanced brain-related vocabulary.
Exercising your mental muscle has never been so much fun!
BIC:
YNG General knowledge & trivia (Children's / Teenage), YNV Hobbies, quizzes & games (Children's / Teenage)