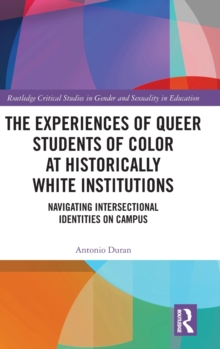 The experiences of queer students of color at historically white institutions : navigating intersectional identities on campus
0367894327 / 9780367894320
23 cm 192 pages : illustrations (black and white)
This significant text employs an intersectional analysis and considers the role of queer frameworks to understand the experiences of Queer People of Color at historically white institutions of higher education in the U.S.
By presenting data from student interviews and reflection journals, the book explores what it means to hold multiple minoritized identities, and asks how such intersections are navigated, contested, and experienced on college campuses.
Exploring both micro- and macro-level mappings of marginalization and power, the text reveals issues including institutional erasure, pervasive whiteness in college and LGBTQ+ communities, and institutionalized racism and heterosexism, and offers in-depth insights into the material, psychological, emotional, and social impacts on queer students of color.
Ultimately, the analysis highlights the necessity of employing intersectional frameworks for addressing interlocking systems of oppression and offers recommendations for the integration and support of queer students of color at historically white institutions (HWIs).
This monograph will offer invaluable insights for scholars, researchers, and graduate students working in the fields of gender and sexuality, higher education, and issues of educational equity, who wish to realize the potential of intersectionality as an analytic framework for the study of identity and development of affirming educational environments.
BIC:
JFCA Popular culture, JFSK Gay & Lesbian studies, JNAM Moral & social purpose of education, JNFR Multicultural education, JNM Higher & further education, tertiary education