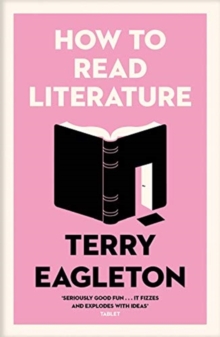 How to read literature
0300247648 / 9780300247640
Reprint. Originally published: 2013.
A literary master's entertaining guide to reading with deeper insight, better understanding, and greater pleasure-"English 101 in a book." (Michael Lindgren, Washington Post) What makes a work of literature good or bad?
How freely can the reader interpret it? Could a nursery rhyme like Baa Baa Black Sheep be full of concealed loathing, resentment, and aggression?
In this accessible, delightfully entertaining book, Terry Eagleton addresses these intriguing questions and a host of others.
How to Read Literature is the book of choice for students new to the study of literature and for all other readers interested in deepening their understanding and enriching their reading experience.
Unfailingly authoritative and cheerfully opinionated, Eagleton provides useful commentaries on classicism, Romanticism, modernism, and postmodernism along with spellbinding insights into a huge range of authors, from Shakespeare and J.
K. Rowling to Jane Austen and Samuel Beckett. "Part of the fun of the book is the way in which Eagleton prompts, provokes and at times infuriates. . . . An ideal introductory guide to critical analysis, and a thoroughly enjoyable reminder of Eagleton's own skill and subtlety as a reader."-Felicity James, Times Higher Education Supplement "This book is seriously good fun. . . . It fizzles and explodes with ideas. You don't have to be either teacher or beginner to relish it: Eagleton is so full of enthusiasm that you just need to be able to read."-Sue Gaisford, The Tablet
BIC: