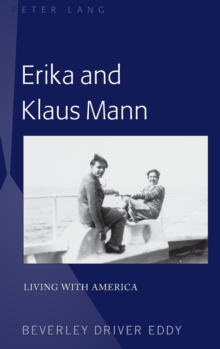 Erika and Klaus Mann : Living with America (New ed)
1433142163 / 9781433142161
150 x 225 mm, 860 grams 552 pages, 17 Illustrations, unspecified
Erika and Klaus Mann: Living with America provides new insights into the lives of Thomas Mann's two eldest children, by focusing on their years in America.
It begins with Erika and Klaus Mann's self-promotional tour of the United States in 1927-1928, and follows up with their return in 1936 as voluntary exiles determined to fight the spread of Nazism in Europe.
As children of privilege and considerable personal charm, Erika and Klaus Mann quickly became highly visible representatives of the German exile community. In examining their lives in America, the United States plays a central role.
Just as the Manns' views of America evolved between 1936 and 1952, so did American public opinion and government policy.
This study examines Erika and Klaus Mann's public and private statements, while also examining statements made about them by American journalists, politicians, book critics, and F.B.I. and immigration officers. It follows the Mann siblings' rise in America as celebrity representatives of an "other," better Germany, and the forces that began to rally against them even before the outbreak of the war.
It shows the many concrete actions the Mann siblings took to persuade Americans to view their country as one linked to European interests, and it describes their various war activities, with Erika becoming a U.S. war correspondent and Klaus an American soldier. Finally, it portrays their fears for America as the war drew to a close, America deployed the atom bomb, and the nation quickly transformed itself from Russian ally to Cold War combatant.
BIC:
AV Music, JFSL Ethnic studies, JHBK Sociology: family & relationships, JHMC Social & cultural anthropology, ethnography