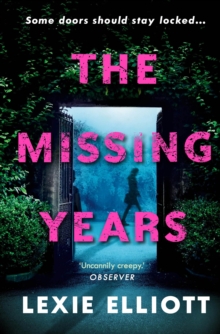 The missing years
1786495597 / 9781786495594
A Goodreads 'Mover and Shaker' for summer 2019The French Girl captivated readers with a twisting tale of psychological suspense.
Now, author Lexie Elliott heads to the foothills of the Scottish Highlands, where a woman's tangled family history comes back to haunt her... Some doors should stay locked... _____________________An eerie old Scottish manor in the middle of nowhere that's now hers. Ailsa Calder has inherited half of a house. The other half belongs to a man who disappeared without a trace twenty-seven years ago.
Her father. Travelling back to her childhood home, which sits nestled amongst the craggy peaks of the Scottish Highlands, Ailsa's past threatens to swallow her whole. And she can't escape the claustrophobic feeling that the house itself is watching her. So when Ailsa encounters an intruder in the dead of night, it becomes apparent that behind the manor's careless, rugged beauty lies a very real threat...
BIC: