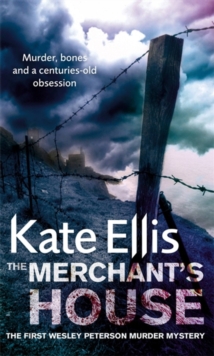 The merchant's house
074995275X / 9780749952754
Stock expected by 16/04/2021
Reprint. Originally published: 1998.
A history of secrets and lies . . . DS Wesley Peterson, newly arrived in the West Country town of Tradmouth, has his hands full when a child goes missing and a young woman is brutally murdered on a lonely cliff path.
Then his old friend, archaeologist Neil Watson, unearths the skeletons of a woman and a newborn baby in the cellar of an ancient merchant's house nearby. As they begin to investigate the murders, Wesley starts to suspect that these deaths, centuries apart, may be linked by age-old motives of jealousy and sexual obsession. And the pressure is on if he is going to prevent a further tragedy . . . The first mystery in the bestselling Wesley Peterson series from Kate Ellis, the award-winning author of the 2019 CWA Dagger in the Library.
What readers are saying about The Merchant's House . . . 'I couldn't stop turning the pages . . . Something about this book just hooked me!' Goodreads Review, 5 stars'Superb . . . Five stars' Reader review, 5 stars'If you like Ian Rankin, LJ Ross, Elly Griffiths and James Oswald, you will enjoy Kate Ellis' Reader review, 5 stars'Gripping . . . Love how the past and present bring the story together' Reader review, 5 stars'You'll fall in love with coastal England and find yourself walking the cobbled lanes in your imagination . . . Do not miss this series!' Reader review, 5 stars'The first in an outstanding series of contemporary crime fiction' Reader review, 5 stars'Fantastic read' Reader review, 5 stars'Compelling . .
Kept you guessing from start to finish. I would highly recommend it' Reader review, 5 stars'Loved it!!' Reader review, 5 stars'Kate Ellis has certainly got a talent for story telling which can grab the imagination from the start' Reader review, 5 stars'Really unputdownable' Reader review, 5 stars'Gripping.
Kate Ellis is my new favourite author' Reader review, 5 stars'A page-turner' Reader review, 5 stars
BIC: