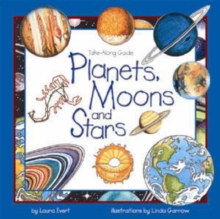 1559718773 / 9781559718776
Stock expected by 21/12/2019
This book provides an introduction to the bodies in our solar system.
Young astronomers and explorers will learn to identify our nine planets and how to seek out the shapes in the sky that our ancestors saw thousands of years ago.
This book includes information on which planets and constellations you can see with the naked eye or with binoculars, and which ones require telescopes.
Statistics, illustrations and interesting facts are included in each section.
What are shooting stars? How has the night sky changed over time? Which planet has the most moons? How did Orion get its name? How old is our sun?Star patterns outlined in the book help readers to find and identify constellations.
Each page is loaded with illustrations, depicting things like crosscuts of planets to show their composition, craters, rings, moons and asteroids, as well as mythological characters of the constellations, like Andromeda, Cassiopeia and Pegasus.
New discoveries are included, like the additional 11 moons of Jupiter that were recently observed.
Activities include making a mobile to get a sense of the planets' alignments, and charting your own constellation.
BIC:
YNT Science & technology: general interest (Children's / Teenage)