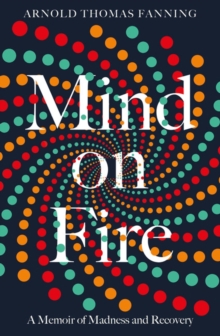 Mind on fire : a memoir of madness and recovery
1844884295 / 9781844884292
Shortlisted for the Wellcome Book Prize 2019'[A] painfully intense, courageous and gripping account of [Fanning's] journey to the underworld of madness and back.
This is a brave and instructive book.' Irish Times'Extraordinary.
An account of mental illness, grief, delusions, homelessness, a fractured family relationship ... and all while trying to recover and create. Superb writing on a frequently difficult subject.' Sinead Gleeson Arnold Thomas Fanning had his first experience of depression during adolescence, following the death of his mother.
Some ten years later, an up-and-coming playwright, he was overcome by mania and delusions.
Thus began a terrible period in which he was often suicidal, increasingly disconnected from family and friends, sometimes in trouble with the law, and homeless in London. Drawing on his own memories, the recollections of people who knew him when he was at his worst, and medical and police records, Arnold Thomas Fanning has produced a beautifully written, devastatingly intense account of madness - and recovery, to the point where he has not had any serious illness for over a decade and has become an acclaimed playwright.
Fanning conveys the consciousness of a person living with mania, psychosis and severe depression with a startling precision and intimacy.
Mind on Fire is the gripping, sometimes harrowing, and ultimately uplifting testament of a person who has visited hellish regions of the mind. 'Mind on Fire is a truly powerful, arresting, haunting account.
Arnold Thomas Fanning has reckoned with the darkest matter of his heart and mind, and I challenge anyone not to be moved by that.' Sara Baume, author of Spill Simmer Falter Wither and A Line Made by Walking'In this strange and singular book, Arnold Thomas Fanning mercilessly excavates the infernal underworld of his own years of madness.
As reminiscent as it occasionally is of John Healy's The Grass Arena, and even of Orwell's Down and Out in Paris and London, the book is ultimately not quite like anything else I've read, and brought me as close to the lived reality of mental illness as I have ever been.
It's a significant achievement: a painful, inexorable work of autobiography, whose existence is its own form of redemption.' Mark O'Connell, Baillie Gifford Prize-shortlisted author of To Be a Machine'This is an extraordinary memoir about how it feels to be depressed, delusional, desperate' The Observer 'Incredibly important' Emilie Pine, author of Notes to Self'A ratcheting pace, a tight first-person immediacy, and utterly staggering to be a passenger over its entire warped course ...
An indelible, ground-shaking account' Hilary A White, Irish Independent, Memoir of the Year, Best Reads of 2018'A spellbinding memoir that should prove both moving and hopefully cathartic for the reader.' RTE Culture 'Told in tight and immediate first-person, and imbued with a startling momentum that ratchets unnervingly, Fanning's publishing debut ... is a significant achievement and should be a talking point in publishing this year.' Irish Independent 'Fanning's debut book lays it on the line in a deeply personal and compelling chronicle of his descent into depression and his way back out.' RTE Guide'Wonderful' Joseph O'Connor, Irish Times Books of the Year'Unsparingly direct, searing and honest ...
It is gripping to read and must have been exhausting to live' Medical Independent 'One of the most gripping and revealing memoirs I've read in a long time.
A controlled and artful exploration of absolute loss of control, an unsettling and at times very moving reconstruction of a period of serious mental illness, Mind on Fire is a beautiful book about a terrifying thing.' Mark O'Connell, Irish Times Books of the Year'Gripping' Sinead Gleeson, Irish Times Books of the Year'Shocking' Liz Nugent, Irish Times Books of the Year'Poignant, beautifully detailed memoir' Sarah Gilmartin, Irish Times, Best debuts of 2018'Brave and illuminating' Sunday Business Post'This is the type of account that not only grips you wholesale as the pages flitter past, it also changes your very perception of psychology' Hilary A White, Sunday Independent Memoir of the Year
BIC:
BG Biography: general, MMJ Clinical psychology, VFJB Coping with illness & specific conditions
Title Unavailable: Out of Print