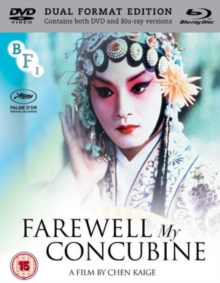 Blu-ray (Blu-ray / with DVD - Double Play)
(15) Suitable for 15 years and over.
Chen Kaige directs this Chinese epic spanning a 50-year relationship between two performers in the Peking Opera troupe.
The story follows Cheng Dieyi and Duan Xiaolou (Leslie Cheung and Zhang Fengyi) as they progress from a brutal stage academy as young children to the height of their art, before a seductive young woman comes between them and the Cultural Revolution intrudes upon both their professional and personal lives.
Other Documentary: 'The Making of Farewell My Concubine' (2003)