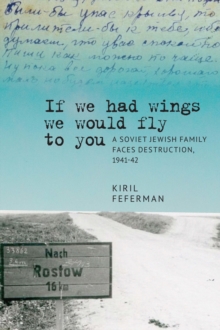 If we had wings we would fly to you : A Soviet Jewish Family Faces Destruction, 1941-42
1644692902 / 9781644692905
Stock expected by 26/07/2020
156 x 234 mm 340 pages, 22 illustrations
This is the first work in any language that offers both an overarching exploration of the flight and evacuation of Soviet Jews viewed at the macro level, and a personal history of one Soviet Jewish family.
It is also the first study to examine Jewish life in the Northern Caucasus, a Soviet region that history scholars have rarely addressed.
Drawing on a collection of family letters, Kiril Feferman provides a history of the Ginsburgs as they debate whether to evacuate their home of Rostov-on-Don in southern Russia and are eventually swept away by the Soviet-German War, the German invasion of Soviet Russia, and the Holocaust.
The book makes a significant contribution to the history of the Holocaust and Second World War in the Soviet Union, presenting one Soviet region as an illustration of wartime social and media politics.
BIC:
1DVUA Russia, 3JJH c 1939 to c 1945 (including WW2), HBLW 20th century history: c 1900 to c 2000, HBTZ1 The Holocaust, HBWQ Second World War, HRAM9 Religious intolerance, persecution & conflict, JFSR1 Jewish studies