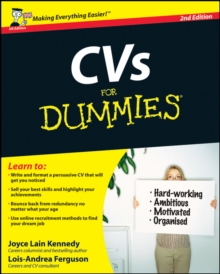 CVs for dummies (2nd ed., UK ed.)
047074491X / 9780470744918
Stock expected by 23/04/2021
Previous ed.: published as by Steve Shipside and Joyce Lain-Kennedy. 2004.
A high quality CV is essential for anyone who wants to get ahead, especially in today's competitive job market.
This fully updated guide shows readers how to create a brilliant CV that'll get them noticed - and the job they deserve.
With dozens of useful sample CVs from a diverse range of industries and age groups, plus advice on structure, language and classic CV mistakes that could be holding them back, this book is the easiest way to a CV tune-up, and a dream job.
The new and updated CVs For Dummies 2 nd Edition contains: Information on bouncing back from redundancy Tips on looking for work in a hostile job market Extended information on the graduate recruitment process A question and answer section on online application forms A brand new chapter on cover letters CVs For Dummies 2 nd Edition covers : Part I: Pitching Your CVs in a Fierce Marketplace Chapter 1: The Versatile CV Is So Five Minutes Ago Chapter 2: New Quick Ways to Find the Right Jobs Chapter 3: Make Your CV Stand Out Among the Web giants Chapter 4: Familiar Search Tools Making a Stance Part II: The Rise and Reign of the Powerful CV Chapter 5: Creating Your Best CV Chapter 6: Flowing Contents vs. Jarring Detail Chapter 7: Words That Always Make the Mark Chapter 8: Catch The Eye In Three Seconds With Design Chapter 9: CVs for Your Life's Changing Phases Chapter 10: The Graduate vs. the Corporate World Chapter 11: The Bare Essentials: That Crucial Cover Letter Part III: Bringing It All Together Chapter 12: A Sampling of Targeted CVs by Industry and Career Field Chapter 13: A Sampling of Targeted CVs by Experience Level and Age Chapter 14: A Sampling of Targeted CVs for Special Circumstances Chapter 15: A Sampling of Extreme CV Makeovers Chapter 16: Successful Solutions to CV Problems Part IV: Launching Your CV Into Orbit Chapter 17: References Authenticate Your CV Chapter 18: Follow-up on Launch and Touch down Chapter 19: Almost Got the Interview Date?
Prepare Yourself Part V: The Part of Tens Chapter 20: Ten Ways to Prove Your Claims Chapter 21: Ten Ways to Improve Your CV Chapter 22: Ten Tips on Choosing Professional CV Help Chapter 23: Ten Things that Annoy Recruiters Chapter 24: Your Ten-Point CV Checklist
BIC: