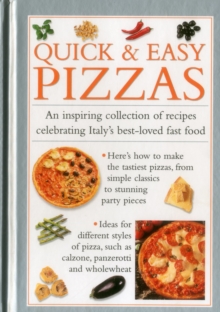 Quick & easy pizzas : an inspiring collection of recipes celebrating Italy's best-loved fast food
0754830500 / 9780754830504
20 cm 64 pages : illustrations
This is an inspiring collection of recipes celebrating Italy's best-loved fast food.
You can enjoy delicious home-made pizzas with more than 30 freshly-prepared recipes.
It features toppings for all tastes, from creamy Quattro Formaggi and delicate Salmon & Avocado to spicy American Hot and Chilli Beef.
You can ring the changes with unusual ingredients to enliven and enhance your pizza repertoire including mussels, shiitake mushrooms, smoked chicken, feta cheese, and butternut squash.
It contains a practical guide to cooking pizzas with step-by-step techniques for making the perfect pizza base and a classic tomato sauce. Originating in Naples as a quick and inexpensive snack, the ever-popular pizza has never looked back since leaving its native city.
This fabulous book takes this humble snack to new heights revealing how to make the tastiest pizzas, from simple classics such as Quattro Formaggi and Fiorentina to stunning party pieces like Smoked Salmon Pizzettes and Spinach and Ricotta Panzerotti.There are rich and filling fish and meat pizzas such as Crab & Parmesan Calzonelli and Pancetta, Leek & Smoked Mozzarella, plus lighter vegetarian pizzas such as Spring Vegetable and Pine Nut, and Mushroom & Pesto, making this the perfect book for pizza lovers everywhere.
BIC: