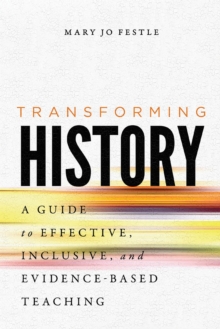 Transforming History : A Guide to Effective, Inclusive, and Evidence-Based Teaching
0299326802 / 9780299326807
152 x 229 mm 304 pages, 2 figs., 3 tables, 11 examples
Teaching history well is not just a matter of knowing history - it is a set of skills that can be developed and honed through practice.
In this theoretically informed but eminently practical volume, Mary Jo Festle examines the recent explosion of research on the teaching and learning of history.
Illuminated by her own work, Festle applies the concept of "backward design" as an organizing framework to the history classroom.
She provides concrete strategies for setting up an environment that is inclusive and welcoming but still challenging and engaging. Instructors will improve their own conceptual understandings of teaching and learning issues, as well as receive guidance on designing courses and implementing pedagogies consistent with what research tells us about how students learn.
The book offers practical illustrations of assignments, goals, questions, grading rubrics, unit plans, and formats for peer observation that are adaptable for courses on any subject and of any size.
Transforming History is a critical guide for higher and secondary education faculty - neophytes and longtime professionals alike - working to improve student learning.
BIC:
HBA History: theory & methods, JNFN Inclusive education / mainstreaming, JNT Teaching skills & techniques