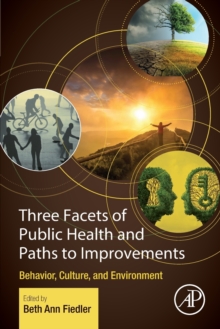 Three Facets of Public Health and Paths to Improvements : Behavior, Culture, and Environment
0128190086 / 9780128190081
Three Facets of Public Health and Paths to Improvements provides an overview on how specific indicators like the environment, culture and behavior play a role in developing improved outcomes for public health in local, regional, national and global health policy and concerns.
Divided into three sections, the book examines the impact of the environment and social determinants on public health.
It also illustrates the interrelation of these facets as predictors of public health, explores their institutional, organizational and individual impacts, and considers the way multiple stakeholders must engage to improve conditions that impact health. The book utilizes various research methods, including fundamental, systematics, qualitative and quantitative.
Readers can use the information to inform future research and better understand an existing health problem and outcomes.
BIC: