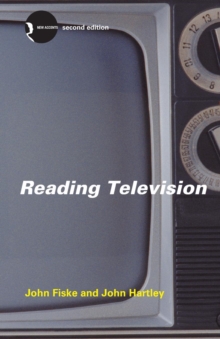 Reading television ([2nd] ed.)
0415323533 / 9780415323536
Stock expected by 20/12/2019
general Learn More
postgraduate
research & professional
undergraduate
Previous ed.: London: Methuen, 1978.
How is it that television has come to play such an important role in our culture?
What, in fact, does it tell us, and how are its messages conveyed?
What is it we find so satisfying in the format of television police series, or in quiz or sports programmes, that we enjoy watching them again and again?
Reading Television was the book that first pushed the boundaries of television studies beyond the insights offered by cultural studies and textual analysis, creating a vibrant new field of study.
Using the tools and techniques in this book, it is possible for everyone who has access to a television set to produce illuminating analyzes not only of the programmes themselves, but also of the culture which produces them.
In this edition, Hartley reflects on the development of television studies since the publication of this enormously influential book, and updated suggestions.
His new foreword both underlines and ensures the continuing relevance of this foundational text, which provides the ideal entry into an area of study crucial for anyone interested in contemporary culture.
BIC: