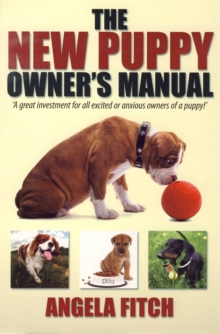 The new puppy owner's manual
1845282876 / 9781845282875
Stock expected by 26/05/2022
This easy-to-use guide is a complete course in raising a puppy into a happy, well-adjusted and obedient adult dog that is a pleasure to live with.In a comprehensive and accessible format, it provides a simple plan to follow, with helpful troubleshooting sections for owners looking for a solution to problems they are already experiencing!It is suitable for both new and existing puppy owners, who are looking for help and advice on puppy training and behaviour.
It explains what to expect, what is normal, what isn A|t, and what to do about it!Contents: Introduction; Part 1 - The Basics 1.
Bringing your new puppy home; 2. Housetraining; 3. Barking, whining and attention seeking; 4. Biting, chewing and jumping; 5. Pack hierarchy; Part 2 - Training 6. Walking on a lead; 7. Sit, down and stand; 8. Recall; 9. Leave and stay; 10. Playtime and tricks; Index.
BIC: