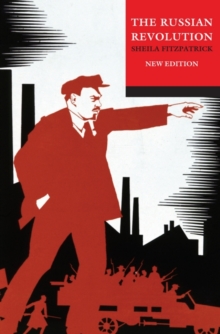 The Russian Revolution (3rd ed)
0199237670 / 9780199237678
The Russian Revolution had a decisive impact on the history of the twentieth century.
In the years following the collapse of the Soviet regime and the opening of its archives, it has become possible to step back and see the full picture.
This fully updated new edition of Sheila Fitzpatrick's classic short history of the Russian Revolution takes into account the new archival and other evidence that has come to light since then, incorporating material that was previously inaccessible not only to Western but also to Soviet historians Starting with an overview of the roots of the revolution, Fitzpatrick takes the story from 1917, through Stalin's 'revolution from above', to the great purges of the 1930s.
She tells a gripping story of a Marxist revolution that was intended to transform the world, visited enormous suffering on the Russian people, and, like the French Revolution before it, ended up by devouring its own children.
BIC:
HBJD European history, HBLW 20th century history: c 1900 to c 2000, HBTV Revolutions, uprisings, rebellions, JPWQ Revolutionary groups & movements
The title has been replaced.To check if this specific edition is still available please contact Customer Care +44(0)1482 384660 or schools.services@brownsbfs.co.uk, otherwise please click 9780198806707 to take you to the new version.
Title Unavailable: Out of Print