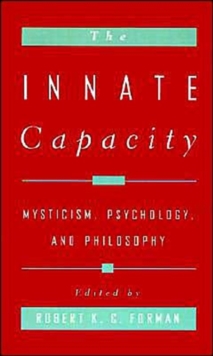 The innate capacity : mysticism, psychology, and philosophy
0195116976 / 9780195116977
Stock expected by 20/12/2019
This book is the sequel to Robert Forman's well-received collection, The Problem of Pure Consciousness (Oxford, 1990).
The essays in the earlier volume argued that some mystical experiences do not seem to be formed or shaped by the language system-a thesis that stands in sharp contradistinction to deconstruction in general and to the "constructivist" school of mysticism in particular, which holds that all mysticism is the product of a cultural and linguistic process.
In The Innate Capacity, Forman and his colleagues put forward a hypothesis about the formative causes of these "pure consciousness" experiences.
All of the contributors agree that mysticism is the result of an innate human capacity, rather than a learned, socially conditioned and constructive process.
The innate capacity is understood in several different ways.
Many perceive it as an expression of human consciousness per se, awareness itself.
Some hold that consciousness should be understood as a built-in link to some hidden, transcendent aspect of the world, and that a mystical experience is the experience of that inherent connectedness.Another thesis that appears frequently is that mystics realize this innate capacity through a process of releasing the hold of the ego and the conceptual system.
The contributors here look at mystical experience as it is manifested in a variety of religious and cultural settings, including Hindu Yoga, Buddhism, Sufism, and medieval Christianity.
Taken together, the essays constitute an important contribution to the ongoing debate about the nature of human consciousness and mystical experience and its relation to the social and cultural contexts in which it appears.
BIC:
HRAB Philosophy of religion, HRCS1 Christian mysticism, HRLK2 Mysticism