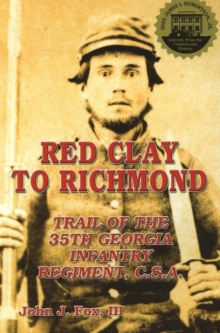 Red Clay to Richmond : Trail of the 35th Georgia Infantry Regiment, CSA
097119503X / 9780971195035
230 x 155 mm, 599 grams 472 pages, b/w photos & illus
This is a thoroughly researched book dredged from Civil War trenches, family attics and dusty archives.
John Fox has skilfully woven together the never-before-told-story of the 35th Georgia Infantry Regiment as these Southern patriots signed up for what most thought would be a short war.
Using many previously unpublished primary accounts, Fox follows these men as they moved from their red clay homesteads in the great State of Georgia to the Confederate capital at Richmond.
This book is much more than a mere battlefield account because it details the daily life and voice of the average Confederate soldier.
It reveals the true American spirit of courage exhibited through deprivation and hardship, not only at the battlefront for the soldiers but also for the family members at the hearth.
More than twenty maps and over seventy photographs grace the pages to further aid the reader in understanding the epochal struggles of these Georgians.
BIC:
BTM True war & combat stories, HBJK History of the Americas, HBLL Modern history to 20th century: c 1700 to c 1900, HBW Military history
* Variable discounts between 0% and 10% are applied to items where BBfS cannot determine exact discounts from suppliers.
Other Formats