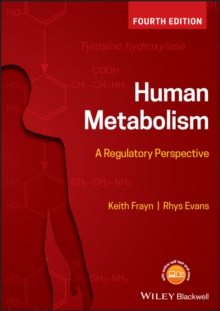 Human metabolism : a regulatory perspective (Fourth edition)
1119331439 / 9781119331438
25 cm x, 380 pages : illustrations (black and white, and colour)
Previous edition: published as Metabolic regulation. 2010.
The updated bestselling guide to human metabolism and metabolic regulationThe revised and comprehensively updated new edition of Human Metabolism (formerly Metabolic Regulation - A Human Perspective) offers a current and integrated review of metabolism and metabolic regulation.
The authors explain difficult concepts in clear and concise terms in order to provide an accessible and essential guide to the topic.
This comprehensive text covers a wide range of topics such as energy balance, body weight regulation, exercise, and how the body copes with extreme situations, and illustrates how metabolic regulation allows the human body to adapt to many different conditions. This fourth edition has been revised with a new full colour text design and helpful illustrations that illuminate the regulatory mechanisms by which all cells control the metabolic processes necessary for life.
The text includes chapter summaries and additional explanatory text that help to clarify the information presented.
In addition, the newly revised edition includes more content on metabolic pathways and metabolic diseases.
This important resource:Is a valuable tool for scientists, practitioners and students across a broad range of health sciences including medicine, biochemistry, nutrition, dietetics, sports science and nursingIncludes a full colour text filled with illustrations and additional diagrams to aid understandingOffers a companion website with additional learning and teaching resources. Written for students of medicine, biochemistry, nutrition, dietetics, sports science and nursing, Human Metabolism has been revised and updated to provide a comprehensive review of metabolism and metabolic regulation.
BIC: