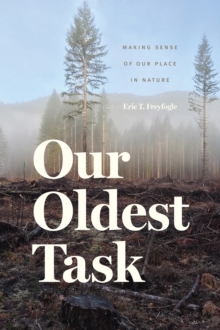 Our oldest task : making sense of our place in nature
022632639X / 9780226326399
This is a book about nature and culture, Eric T. Freyfogle writes, "about our place and plight on earth, and the nagging challenges we face in living on it in ways that might endure." Challenges, he says, we are clearly failing to meet.
Harking back to a key phrase from the essays of eminent American conservationist Aldo Leopold, Our Oldest Task spins together lessons from history and philosophy, the life sciences and politics, economics and cultural studies in a personal, erudite quest to understand how we might live on and in accord with the land.
Passionate and pragmatic, extraordinarily well-read and eloquent, Freyfogle details a host of forces that have produced our self-defeating ethos of human exceptionalism.
It is this outlook, he argues, not a lack of scientific knowledge or inadequate technology, that is the primary cause of our ecological predicament.
Seeking to comprehend both the multifaceted complexity of contemporary environmental problems and the zeitgeist as it unfolds, Freyfogle explores such diverse topics as morality, the nature of reality (and the reality of nature), animal welfare, social justice movements, and market politics. The result is a learned and inspiring rallying cry to achieve balance, a call to use our knowledge to more accurately identify the dividing line between living in and on the world and destruction. "To use nature," Freyfogle writes, "but not to abuse it."
BIC:
RGC Human geography, RNT Social impact of environmental issues